TRAINING MANAGEMENT
Training management software inclusive learning success control
The DHC VISION TRAINING solution digitizes all training phases, from planning to follow-up. Training may relate to specific topics such as hygiene or to documents such as SOPs. With the optional learning success control at the end of the "closed loop" processes, DHC VISION sets new standards in quality assurance and "regulatory compliance".
Especially in highly regulated industries, training and qualification measures must be planned, carried out and documented in a traceable manner. Also, a detailed and verifyable documentation of training results is mandatory. To ensure compliance with applicable regulations, DHC VISION captures all training status information throughout the entire process. Training activities can be traced and controlled due to digital employee training processes with best-practice workflows. The result is an increase in transparency: It is easy to check on an employee's training status with regard to relevant training items (e.g. SOPs or topics); training gaps become apparent.
Authorities and regulatory organizations, such as EMA or FDA, also require detailed documentation and proof of training results. The module DHC VISION Learning Success Control responds with differentiated tests, which make it easy to determine whether training content actually is understood. Different types of quizzes are available; multimedia elements can be included. Interactive online tests play a key role in employee training and certification; they allow for assessing training effectiveness and the successful transfer of training results to specific contexts of application.
Training planning and implementation
Allocation of relevant training content via training areas and training profiles
Flexible target group definition
Automatic start of digital training
Adaptive planning of classroom training and training units
Generation of employee and training matrix
Automatic creation of skillsets per training profile
Visualization of training needs and training status
Intelligent calculation of re-qualifications and automatic submission
Use of predefined workflows (e.g. read and understood, learning success, training measure release)
Planning of ad-hoc trainings
Learning success control
Interactive online tests for closed-loop processes
Differentiated tests to check comprehension
Different types of interactive questions/tasks
Easy creation of tests, online and via drag & drop
Integration of multimedia elements
Determination, analysis and documentation of training success
Verification of correct application of instructions/topics
Definition of individual evaluation methods and point allocation
Automatic generation of training certificates completion of test
Tracking and monitoring
Valuable information about the status of training activities (training progress, training results) through reports
Training status of the organization by groups, roles or employees
Employee training measures matrix (overall or area-specific)
Workflow monitoring
Overviews of open training measures and training certificates
Automatic generation and provision of training certificates
Role-specific training dashboards for management as well as trainers
Conpact information on our training management software including learning success control and the complete range of functions are available in the in DHC VISION TRAINING factsheet.
"*" indicates required fields
Master data
Flexible structuring and prioritization of training topics or programs
Management of internal and external trainers
Management of training content, subjects and documents:

Digital training of an "instruction" ("read and understood"; self-study)
Classroom training for instruction
Classroom training not related to a document

Target group definition: design of training areas, definition of persons responsible for training areas, assignment of employees to target groups
Creation of central and target group-specific training profiles and generation of associated skillsets (linking employees to training content)
Administration of internal and external trainings
Training planning
Support of prerequisites for assigning target groups to training measures via training areas and profiles

Definition of due dates, planned training duration, repetition cycle for periodic trainings (frequency)
Definition and nomination of target groups based on defined training criteria
Determination of conditions and exceptions
Identification and formation of target groups
Assignment of relevant training content to target groups or trainees
Re-certification workflow based on a dynamically calculated due dates

Generation of a matrix of employees and training content (e.g. documents) of a training profile

Flexible administration of employees and the content to be trained for specific profiles
Automatic creation of a skillset per profile

Flexible and traceable modifiation of target groups (areas) and training profiles due to changed employee structures or task areas
Adaptive planning of training units with automatically generated training plans
Detailed planning of training units with trainer, duration, location, type of performance review (e.g. online test/individual survey) and training class
Integration of Microsoft Office applications (Word, Excel, Outlook)
Definition of mandatory trainings and fixed training periods (full integration into SOP/document management; documents receive the status "released for training")
Automatic generation of mandatory trainings (as defined by the company) via training profiles; option to assign employees to multiple profiles
Automatic generation of mandatory training tasks/units for new instructions and new versions of an instruction; applicable also to employees without PC workstation
Use of predefined workflows for reading comprehension, verification of learning success or release
Creation and planning of ad-hoc trainings or unplanned trainings
Training execution
Automated request to implement mandatory training measures within a defined period of time.
System-controlled distribution of "Read and Understood" training (self-training) in case of content (e.g. instruction), new versions of training content (incl. training material), or new trainees assigned to a training profile
Timely notification of trainers about upcoming training sessions
Generation of training protocols for printout/upload and feedback forms with training results
Automated generation of training certificates

after completion of reading comprehension
after "pass" feedback by the trainer
after successful learning outcome check

Automated creation of a follow-up training in case of failure
Task assignment as well as training request via e-mail and DHC VISION Task
Configurable reminder and escalation mechanisms for training execution within a defined training period
Employee cockpits with personal training/compliance status
Submission/confirmation of task completion, e.g. reading comprehension, via electronic signatures (21 CFR Part 11 compliant)
Simultaneous or time-shifted training of employees (no quantitative limitation)
Event-oriented cancellation – incl. notification and escalation scheme – of training results in case of new training obligation
Training documentation
Visualization of the life cycle and training results per training unit
Automatic creation of training protocols and certificates
Online summaries (attendance, results) for trainers
Fully traceable training history and status management
Training progress and status reports
Personalized training proofs or certificates of successful training
Custom design of templates (e.g. name badges, manuals, feedback sheets) for classroom training
Learning success control
Integration of learning success control (interactive online tests) and document management (controlled documents resp. SOPs) within closed loop processes (creation, testing, release for training, training, success control, publication/validation)
Documentation and analysis of training success with direct reference to topics or documents
Design of differentiated comprehension tests with input from the author resp. topic owner and based on the actual training content
Use of different question types (fill-in-the-blanks, drag & drop, image hotspots, memory games, etc ) together with multimedia elements (interactive videos, animations, simulations etc.)
Definition of assessment and grading methodology with minimum thresholds for passing tests
Definition of the number of retests in case of failure
Random display of exam questions; random generation of tests from test question pools
Workflow for creating, checking and releasing an exam
Automatic presentation of tests for reading comprehension
Automatic calculation of the exam result
Automatic creation of a personalized certificate based on minimum thresholds
Training monitoring
Predefined reports for continuous status learning progress tracking and monitoring of training areas, profiles or single trainings and training tasks.
Reports on training status of employees or groups of employees in view of their qualification for critical processes or machines resp.for the assessment of retraining or further training needs
Comprehensive selection parameters for targeted training needs assessements
Employee training measures matrix (overall or area-specific)

Matrix with training results per employee (passed, absent, failed, active, canceled, no training required)
Display of numger of employees in need of training, number of training items, number of training activities, diagrams of training status and results

Monitoring of workflow activities
Elastic Search with high-performance search mechanisms as well as context-specific result preparation
Overviews, also displayed directly on documents, of open tests and summaries of training evidence related to persons or documents resp. topics
Events, notifications, communication
Notification Event Modeling Framework for automated, accurate and timely notification of people, roles/groups or systems about the status value of definable events such as date, threshold, metric, new document versions.
Flexible and appealing design of notifications (including HTML); also multilingual, to different recipient systems (email, social media, mobile gadgets etc.
Rules and communication by creating messages along role-based interests and views (user view, organizational view, compliance view).
All notifications are subject to an audit trail
Full traceability of who was informed about what, when, with what content
Analytics
 
Interactive data analytics and business intelligence capabilities to diagnose current and future compliance

Visualization of compliance KPIs for documents with mandatory acknowledgement
Employee compliance: percentage and number of employees who have completed all mandatory tasks
Organizational compliance: Overview of the compliance status of organizational areas
Development of compliance KPIs over time
Overview and detailed presentation of compliance-critical statuses
Recommendation for action to improve compliance KPIs

Cockpits with information on documents, training content, and mandatory (compliance-relevant) training measures as well as with details on training units (e.g., type of training, type of performance review, duration, location, trainer, life cycle, training results)
Role-specific dashboards with relevant information for training managemer and trainers with sophisticate drill-down options (detailed view on employees, documents, trainings and measures):

Trainings and Documents: visualization, number and processing status of training relevant documents, classification of document types, number of training relevant employees, number of training actions as well as their status).
Status and validity: overdue management with status of document trainings (on schedule, overdue) as well as validity of documents incl. status information (overdue, under revision, still valid) incl. visualization of 90 days forecast
Training measures: Training profile-related display of document and document-independent trainings, number of deposited employees, number of ongoing trainings (online vs. classroom) as well as degree of coverage of ongoing training measures (absolute and percentage)
Skillset of employees: Display of all assigned profiles incl. the corresponding skill level and percentage coverage per profile as well as overall across all profiles incl. graphical representation of results of current and last trainings
Skillset of the training profiles: Visualization of the training status as a matrix of documents/topics and employees
Compliance
Ensure legal compliance and certification through automation training actions, tasks, reminders, and escalations.
Ensuring traceability of the status of training measures
Complete and audit-proof documentation of training management or qualification levels
Transparent training processes
Conformity to 21 CFR Part 11, GxP Guidelines and a variety of other legal regulations
Ensuring that employees are/will be trained in the applicable version of an instruction in a timely manner.
Escalation when training deadlines expire
Fine-granular authorization concept
Multisite
Multilingual (unicode-capable); standard scope of delivery: DE and EN
Easy switching between language versions
Sophisticated multi-client concept for group-wide training management
Insight into our customer relations
"We were looking for an integrated document, CAPA and process management tool for our Germany-wide branch network in order to digitise the creation, review, approval or training of our SOPs and processes, but also the application of our QM system. Among other things, this is connected with the goal of accelerating our processes and minimising risks. In addition to the beautiful design and the high level of user-friendliness, we were particularly convinced by the implementation concept and the validation expertise of DHC; in retrospect, this was also the case with the consultants during the implementation. DHC VISION has brought us significant steps forward in the field of our quality assurance."
Kerstin Blankenburg
VitalAire GmbH
Validation and compliance consistently in view
DHC VISION is specially designed for use in highly regulated industries. The solution fulfills the GxP guidelines and directives of the FDA, EMA, PIC/S or ICH, as well as 21 CFR Part 11, both technologically and technically (business processes). The Validation Package is available for validating the system. Consisting of the Validation Accelerators (complete documentation set for validation) and the Validation Services for adapting the documentation to your individual situation.
SOP CONTROL
The optimal solution for digital management and control of your specification documentation. Secure, controlled, traceable and compliant (including 21 CFR Part 11).
CHANGE
System processes for Change Control ensure precise management and communication of changes of any kind, from the beginning to the end.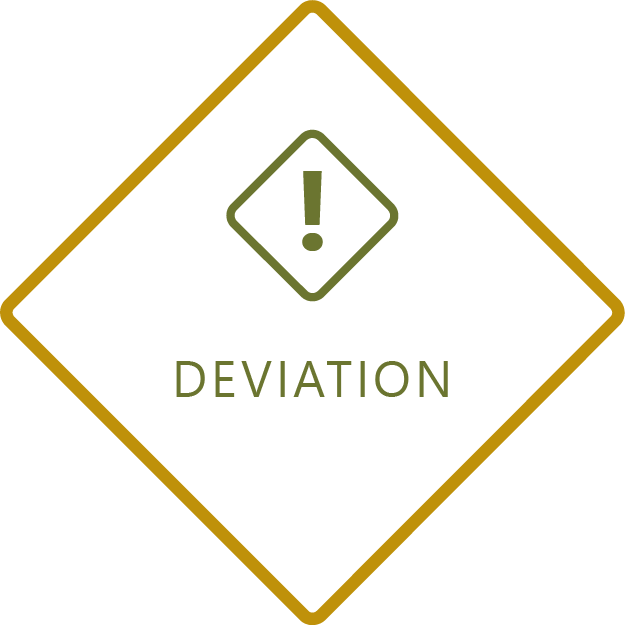 DEVIATION
Systematic and controlled documentation, analysis and resolution of non-conformancies to improve quality and compliance.
COMPLAINT
Whether they come from costumers, suppliers or internal processes – complaints are maneged in a controlled manner. This is done with the highest degree of regulatory (process) security.
Get an impression of this and other products or read what insights we have gained from research and development. Take advantage of our exclusive content such as white papers or study results on the digitization of quality and compliance processes. Put together your desired media easily and conveniently.
Worth knowing | News | Latest
Corden BioChem GmbH, located in Höchst near Frankfurt, is one of the world's largest industrial production partners for biotechnologically...
read more
What types of training are supported in combination with DHC VISION SOP Management (controlled documents)?
The SOP Management module provides procedures for distributing documents to a defined group of people. They can be distributed either for information or for acknowledgement. If content needs to be formally trained, further processes are available in a dedicated Training Management module. For example, documents can be automatically forwarded to employees; they confirm that they have "read and understood" the content. The module also covers classroom training or classroom events; trainers receive announcements, participant lists, feedback forms, and much more.
Can DHC VISION Training Management also be used stand-alone?
The SOP Management module is our solution for managing and controlling specification documents. It also provides the basis for employee training. With DHC VISION, we focus on the holistic digitization of the document life cycle. This includes not only the release of documents; it also covers training management and the verification of learning success. Thus, we implement "closed loop processes" – from document creation to learning success monitoring.
DHC VISION beinhaltet hierzu Best-Practices für Qualitätsmanagementprozesse basierend auf über 20 Jahren Erfahrung. Das DHC VISION SOP Management, unsere Lösung zur Dokumentenlenkung, unterstützt darüber hinaus die Einhaltung der strengen Vorschriften und gewährleistet die Compliance-Konformität. Reports, Dashboards oder Monitoring-Mechanismen liefern jederzeit die notwendige Übersicht zum Status der Vorgabedokumentation, deren Gültigkeit sowie zur Nachvollziehbarkeit. Unternehmen sind damit jederzeit auskunftsfähig und bereit für ein Audit.
How does DHC VISION training management differ from learning management systems?
DHC VISION is designed for use in regulated industries, i.e., the pharmaceutical, chemical, medical technology industries. The system, in particular, targets the EMA and FDA regulated world. Hence, its focus is on training content provided in key documents; DHC VISION generates the proof of training required by regulation, which essentially is based on employees testifying that they have "read and understood" the document. The training status of employees commonly is checked in audits and inspections.
Learning Management Systems (LMS) are specialized in HR processes such as education and training, personnel development, or talent management. This usually includes course catalogs, learning media of various formats, e-learning courses to which employees can register themselves. LMS generally include authoring tools for the creation of multimedia learning content. 
The validation of such system – not to mention their GxP-compliant development – is very time-consuming, if possible at all. Therefore, LMSs in the life sciences are often used for non-GxP-critical processes and training content only. 
Our DHC VISION eDMS, by contrast, is specifically designed for the "validated" environment with its regulations on document management as well as training procedures and functions. The training solution focuses on specification documents, GxP or compliance topics, i.e., training measures and content required by law, regulation, or in-house guidelines – and where 100% traceability is required.