SOP MANAGEMENT
Management system for controlled documents
Aligned with the processes of highly regulated industries, the DHC VISION solution enables traceable governance and control of all regulatory documentation. Controlled end-to-end processes, interactive business intelligence and data analytics functions in combination with an appealing design ensure "Efficient Compliance".
The controlled management of "business-critical" documents such as SOPs is essential in the life science industry, i.e., in companies regulated by EMA, FDA and GxP. They must adhere to strict regulations, legal requirements, and high standards. Any deviations and infringement can have serious consequences for (patient) safety, health or business operations. The DHC VISION SOP software digitizes and automates processes in document and quality management, ensures compliance, and promotes security.
DHC VISION is a powerful and modern solution with differentiated best-practice workflows. Controlled documents such as standard operating procedures can easily be created, securely checked, approved, released, and distributed to target goups with a high degree of traceability. Digital management processes are fully automated. Dashboards and a comprehensive reporting system provide the best possible overview of active processes, the actual status of the standard documentation, and its validity .
Document management
Digital SOP Closed Loop Processes
Secure creation, review and approval of all standard documents
Provision of common document types
Standardization through over 50 document templates and workflows
Flexible document encoding
Electronic signatures compliant with 21 CFR Part 11
Status management
Recall and restart of workflows by the initiator
Comment function and review document  
System-supported calculation of validity and archiving duration
Document control
Target group specific distribution of new resp. changed documents
Distribution to users (individuals, groups) for information or acknowledgement
Sending of messages by mail and delivery to personal taskbox
Real-time publication
Seamless integration with DHC VISION TRAINING (optional)
Easy customization of release workflows
Distribution via mail and inclusion in personal task list
Systematic procedures for invalidation, validity extension, reactivation and archiving of documents
Document monitoring
Comprehensive reports and dashboards for monitoring
Full traceability and control
End-to-end change and version history
High performance Cognitive Search
Comprehensive search mechanisms with filtering/selection features
Reminder/escalation mechanisms
Comprehensive status tracking mechanisms (tracebility)
Workflow monitoring and graphical status visualization
Interactive data analytics and business intelligence functions
Diagnosis of current and future compliance
Compact information on all processes related to controlled documents and the complete range of functions are available in the factsheet on DHC VISION SOP Management.
"*" indicates required fields
Document processing
Use of customizable templates for document creation
Provision of common document types (instructions, SOPs, specifications, etc.)
Automated assignment of unique document numbers (prefix)
Revision count for existing documents
Flexible coding of documents and flexible definition of properties or attributes
System-supported calculation of revision cycles and archiving duration
Import of controlled documents
Integration of Microsoft Office products (Word, Excel, Powerpoint, Outlook)
Easy definition of responsibilities and scopes (from master data)
Access control to authorizes users for document editing
Traceable versioning of all documents (version history)
Creation of new versions exclusively on the basis of released resp. valid versions
Automatic status assignment
Control through predefined workflows and intuitive definition of workflow participants
Comprehensive master data management for recording processes, organization, IT, etc.
Document control
Best-practice workflows for, e.g., editing, review and approval processes
Electronic signatures compliant with 21 CFR Part 11
Creation, verification, release of documents
Suspension or extension of validity
Rejection or refusal of a task with obligation to comment
Flexible scheduling of a training period
Notifications when tasks are issued or completed
Possibility of serial or parallel test and release cycles
Out-of-office assistant and proxy regulation
Status management
Automatic status change from "in progress" to "for review" or "for release".
The previous version of a document is invalidated and archived when it comes into effect
Publication
Automatic conversion to PDF
Real-time publication
Target group-oriented information distribution for new or changed documents
Distribution (to groups or individuals) for information or acknowledgement
Simple customer-specific modelling and configuration of release workflows
Task distribution in personal taskbox and by mail (incl. link to document)
Option for seamless integration with DHC VISION training management
Review
Pre-defined workflows for invalidation, validity extension, reactivation and archiving of documents
Cyclical resubmission of documents for review
Document-specific manual definition of due date for resubmission
Direct review or validity extension from out of the resubmission process
Reminder and escalation mechanisms for meeting deadlines (lead times)
Complete reference list for documents and application context
Support of document invalidation by authorized persons
Dynamic display and easy processing of proposed corrections for documents
Document changes without loss of validity of the published version
Reporting
High-performance Cognitive Search
Comprehensive search mechanisms and filter/selection functions
Integrated full-text search of document content and attributes
Wide range of selection parameters to support a variety of use cases
Pre-defined status reports and reports for planning resubmissions
System-supported monitoring of document validity
Reminder/escalation mechanisms for monitoring documents with limited validity
Comprehensive mechanisms for status tracking (tracebility)
Workflow monitoring and graphic visualization of status (traffic lights)
Events, notifications, communication
Notification Event Modeling Framework for automated, accurate and timely notification of people, roles/groups or systems about the status value of definable events such as date, threshold, metric, new document versions.
Flexible and appealing design of notifications (including HTML); also multilingual, to different recipient systems (email, social media, mobile gadgets etc.
Rules and communication by creating messages along role-based interests and views (user view, organizational view, compliance view).
All notifications are subject to an audit trail
Full traceability of who was informed about what, when, with what content
Controlled printouts
Display of all documents in PDF (automatic conversion regardless of status)
Single, multiple and collective printing functions
Workflow for traceable printing of documents
Printing of valid documents with print date, time, validity period
Authorized copies with watermark
Overview of distributed paper copies
Informative printout, daily copy, training copy
Applicable attachments
Creation of additional documents/information as applicable attachments or additional information
References to additional documents, e.g., checklists, scans, incl. multiple selection
Linking/referencing to additional objects such as processes, OUs, IT systems, products, etc.
Changes to additional information/references have no influence on the main document
Automatic version and status management
Intelligent notification system
Security
Audit-proof storage and management of documents in freely definable structures
Complete version and change history (audit trail)
Write protection of signed or released documents
21 CFR Part 11 compliance (electronic records, electronic signatures)
Fine-grained authorization concept
Predefined roles, profiles, user groups and authorizations
Compliance with the highest security requirements
Multisite
Intelligent multi-client concept for group-wide document management
Simple and redundancy-free adaptation of global documents to local conditions
Clear management of global and site-specific content variants
Intuitive document translation processes, incl. formal release of the translation (language variants)
Analytics
Role-specific dashboard with decision-relevant information:
Number of documents by status and type
Overdues management: validity of documents, incl. status information
Visualization of the 90 days forecast
Drilldown to detailed document information
Display of the essential document attributes or properties
Quick view of the individual document incl. related documents
Direct access to documents with multi-faceted view of core information
Adaptive and interactive data analytics and business intelligence capabilities to diagnose the current and future compliance status
Visualization of compliance KPIs for documents requesting mandatory acknowledgement
Overview of organizational units and their compliance status
Visualization of compliance KPIs over time
Overview and detailed presentation of compliance-critical statuses
Recommendations on how to improve compliance KPIs
Employee compliance: Percentage and number of employees with 100% training completion
Insight into our customer relations
"We were looking for an integrated document, CAPA and process management tool for our Germany-wide branch network in order to digitise the creation, review, approval or training of our SOPs and processes, but also the application of our QM system. Among other things, this is connected with the goal of accelerating our processes and minimising risks. In addition to the beautiful design and the high level of user-friendliness, we were particularly convinced by the implementation concept and the validation expertise of DHC; in retrospect, this was also the case with the consultants during the implementation. DHC VISION has brought us significant steps forward in the field of our quality assurance."
Kerstin Blankenburg
VitalAire GmbH
Validation and compliance consistently in view
DHC VISION is specially designed for use in highly regulated industries. The solution fulfills GxP guidelines and directives of the FDA, EMA, PIC/S or ICH, as well as 21 CFR Part 11, for both technology and business processes. The Validation Package is available for system validation; it consists of "Validation Accelerators" (complete documentation set for validation) and Validation Services for adapting the documentation to a specific system configuration.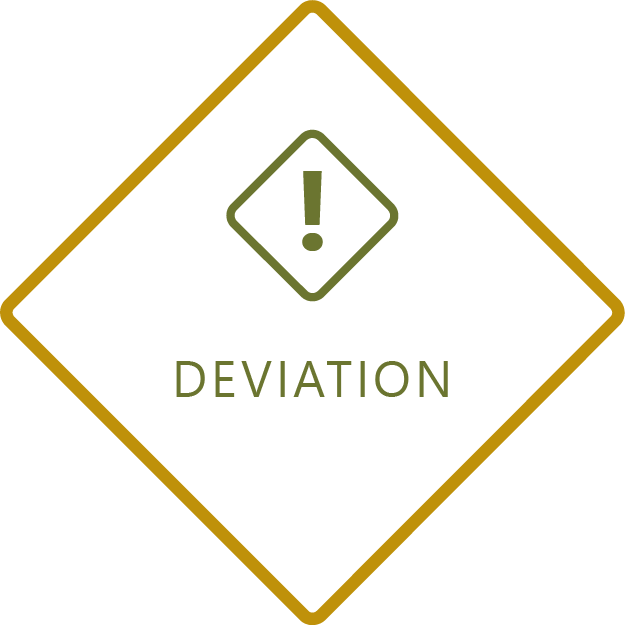 DEVIATION
Systematic and controlled documentation, analysis and resolution of non-conformancies to improve quality and compliance.
COMPLAINTS
Whether they come from costumers, suppliers or internal processes – complaints are maneged in a controlled manner. This is done with the highest degree of regulatory (process) security.
Get an impression of this and other products or read what insights we have gained from research and development. Take advantage of our exclusive content such as white papers or study results on the digitization of quality and compliance processes. Put together your desired media easily and conveniently.
Worth knowing | News | Latest
Post-market surveillance is a mandatory task for manufacturers of medical devices and involves a great deal of effort. Whether and how...
read more
What is meant by SOP?
In regulated industries, SOP stands for Standard Operating Procedure. The abbreviation should not be confused with "Start of Production", which is common in industrial serial production.
SOPs are documents with the highest importance in the pharmaceutical and medical technology industries (or, generally, the life sciences) and often also in the food industry. Standard Operation Procedures focus on critical procedures or processes with a potential impact on health, safety, and the environment. SOPs describe in detail how to handle work steps or procedures and how to check and document results. The aim is to ensure uniform execution and identical results and to guarantee adherence to ethical and legal standards.
Due to the importance of SOPs (especially with regard to patient safety), their management and control is regulated by authorities, in particular by FDA and EMA. Compliance with their guidelines is required and subject to regular audits. Violation of guidelines may result in severe penalties and sanctions, up to and including a marketing ban. For deviations from guidelines may cost human lives in the worst case.
SOPs have several advantages. For example, they describe all processes to all employees in a uniform and comprehensible manner. They clearly outline who has to do what, when, where and how. Such standardization simplifies and accelerates regular training and the onboarding of new colleagues. SOPs also prevent errors and ensure consistently high quality.
What do digital document control systems do?
Document control systems automate and standardize document lifecycle processes. Digital solutions guide the user in the best possible way through all steps of the document control process (document creation, review, approval, distribution, modification, validity extension, suspension, reactivation of instructions). Such solutions optimize collaboration with no local constraints. All relevant documents are assigned to users directly; they are stored in their personal workspaces for quick and easy access. 
DHC VISION includes best practices for quality management processes based on over 20 years of experience. DHC VISION SOP Management, our document control solution, also supports adherence to regulations and ensures compliance. Reports and dashboards allow close monitoring of the status and validity of specification documents; they ensure the traceability of actions at any time. Companies, thus, are able to provide information; they are ready for an audit at any time.
What distinguishes document management systems for life science from classic DMS?
DMS solutions address a wide range of application scenarios. For companies from the pharmaceutical, chemical, medical technology, biotechnology sectors – or the "life sciences" in general – strict regulatory requirements must be observed; compliance is a must. One focus is on work instructions or SOPs. Via GxP guidelines, the Food and Drug Administration (FDA) or the European Medicines Agency (EMA) specify a strict framework for document management to which any software system must comply, technologically and functionally. Both, the software solution and the provider must have the competencies, methods, and tools to meet the requirements. Compliance with GxP, GMP, 21 CFR Part 11, to name but a few, is essential as is the validation and qualification of the software, e.g., according to GAMP.
DHC has specialized in meeting demands of regulated industries for over 20 years. DHC VISION Document Control (as well as the other modules) meets industry standards comprehensively. Also, DHC has expertise in validating and qualifying complex computer systems. Scalable CSV services and a comprehensive validation documentation (Validation Accelerators) are an integral part of our implementation projects.
What regulatory requirements should a managed documents solution meet?
 Companies in the "Life Sciences" are subject to strict laws, regulations, and standards; compliance with the regulatory framework is essential. The regulations to be observed vary according to the industry sector. The list is long; examples for FDA or EMA regulated industries are: EU – GMP (EMEA), 21 CFR Part 11 (FDA), 21 CFR Part 820 (FDA), ICH, GAMP, PICs, the Medical Devices Act (MPG), the Medical Devices Ordinance (MPV), ISO 13485, ISO 9001, ISO 17779 or 14791. In addition, there are cross-industry regulations, e.g., on data protection or information security.