CAPA MANAGEMENT
The solution for corrective and preventive actions
The CAPA processes in DHC VISION are specially designed for the systematic coordination of corrective and preventive actions in a highly regulated environment. Actions are triggered by quality-relevant events such as non-conformities; they are processed in an automated and targeted fashion. Controlled workflows, reminders, escalations and interactive dashboards ensure that operational and quality-related processes come with maximum security, transparency and efficiency.
Dealing with quality deviations or non-conformities is of central importance for consistently high quality. This holds, in particular, for companies in the life sciences, i.e., pharmaceutical, chemical, biotech or medtech companies. The quality of their products is crucial for the well-being of pationts. Non-conformities, deviations or complaints usually trigger detailed error and root cause analyses; on their basis, measures are defined, initiated and subsequently evaluated for their effectiveness. Immediate measures, corrective measures and preventive measures are used to successfully eliminate quality anomalies in the short and long term.
DHC VISION establishes the link between anomalies on the one hand and corrective as well as preventive root cause actions on the other. The software automates the entire CAPA process and provides digital support to problem resolution. CAPAs are managed in a precise, targeted and traceable manner. Tasks, work lists and recommended actions are visualized specifically for different user roles. DHC VISION, thus, contributes significantly to the efficiency of quality processes. The solution can be seamlessly integrated into the other DHC VISION products, e.g. SOP, deviation, complaint, change or audit management. Tools for detailed reports clearly visualize planned measures in role-specific dashboards. Priorities, implementation statuses, deadlines and responsibilities are visualized in detail.
Digital CAPA process
Automation of the entire lifecycle of CAPAs and measures
Reliable user support through pre-configured best practice workflow
Involvement of all relevant employees in the execution process
Cross-departmental and cross-functional control of tasks and statements
Intuitive and customizable input dialogs or forms
Catalog system for standardization
Seamless integration of further quality processes like deviations, complaints, change etc.
Upload of necessary attachments such as documents, images, etc. directly to the process
Seamless documentation
Evaluations, monitoring and tracking
Clear representation of tasks and activities
Role-specific dashboards on CAPAs and optimization measures
Real-time data on all quality-related aspects
Reports for timely identification of potentials, trends, frequencies or risks
Time-related analyses of ongoing measures with visualization of throughput times and adherence to schedules as well as a variety of other qualitative aspects such as criticality and effectiveness
Permanent traceability, e.g. through comprehensive ad-hoc reports
Compact information on all processes related to controlled documents and the complete range of functions are available in a factsheet on DHC VISION CAPA Management.
"*" indicates required fields
CAPA Life-Cycle and Process
Complete process support, from the recording, elaboration, approval, implementation and effectiveness testing to the formal conclusion of measures
Central management and traceable documentation of actions and their implementation
Provision of common action types, i.e., corrective action, preventive action, immediate action, remedial action,, avoidance action
Flexible design of the filing structure according to any criteria (time periods, triggers, objects, organizational units, processes, etc.)
Comprehensive master data management for processes, organizational units (e.g. customers, suppliers), persons, products (individual products/product groups), IT applications, machines/facilities; differentiated catalog management for measures, changes, causes, errors, etc.
Extensive type management for target objects, e.g., activities, assets, processes, buildings, IT applications, machines, plants, networks, organizational units, products, materials (groups), projects, rooms, resources, systems, etc.
Manual entry of measures or CAPAs via simple web dialog
Automated triggering of CAPAs by deviations, complaints, OOS, (safety) incidents, (audit) findings, changes or other quality-relevant events, results or key figures
Flexible catalog management for recurring actions and for the efficient initiation of actions based on historical experience values
User-centric task dialogs, data entry masks and forms (the user only sees the fields or attributes to be edited)
Predefined attribute set (free texts, selection, dynamic ranks)
5-level prioritization of measures (from "not relevant" to "urgent")
Risk-based evaluation for the implementation of measures (4-level)
Predefined (customizable) best practice workflows for precise control, routing, approval, deployment, notification and escalation of corrective and preventive actions and associated documents
Easy definition of teams and persons responsible for actions
Flexible scheduling and assignment of deadlines for action implementation
Definition and assignment of subtasks (measures) for implementation and also testing of implementation
Access also possible for third parties (customers, suppliers, etc.)
Linking to external information or documents
Entry of additional information and notes
Upload of any objects and attachments (photos, scans, e-mails, etc.)
Notification of important dates, examinations, deadlines or trends
CAPA Integration
Seamless integration with other DHC VISION products to realize a holistic solution with closed loop processes

Deviation management
Complaint management
SOP Management (DMS)
Training Management
Change management

Framework with interfaces for connecting operational or third-party systems such as ERP, LIMS, CAQ, MES, CRM, etc. or related quality processes
Increase of compliance level and process efficiency via holistic processes in integrated systems
Reporting, monitoring and search
Detailed reports incl. diagrams on relevant aspects (overall status, number of objects, object status, workflow status, lead time, trigger, affected object, implementation risk, degree of effectiveness)
Time-related analyses of ongoing measures with visualization of lead times and adherence to schedules as well as a variety of other qualitative aspects such as criticality and degree of effectiveness
Reports for full traceability of measure implementation and effectiveness review; also for identification of trends or frequencies
Tracking of goals/schedules to monitor and improve the effectiveness of CAPA operations
Comprehensive status tracking tools and multiple reporting capabilities and filters
Excel export
Elastic Search Engine: High-performance, context-sensitive search with comprehensive search mechanisms and filter/select functions
Intuitive full text search across all objects, attributes, key words or content
Reminder and escalation functions to meet set timeframes or deadlines
Generated 8D reports (in combination with complaint or deviation management)
Monitoring of running workflows incl. traffic light visualization
Events, notifications, communication
Notification Event Modeling Framework for automated, accurate and timely notification of people, roles/groups or systems about the status value of definable events such as date, threshold, metric, new document versions.
Flexible and appealing design of notifications (including HTML); also multilingual, to different recipient systems (email, social media, mobile gadgets etc.
Rules and communication by creating messages along role-based interests and views (user view, organizational view, compliance view).
All notifications are subject to an audit trail
Full traceability of who was informed about what, when, with what content
CAPA Intelligence
Role-specific dashboard for senior management with clear displays of meaningful or decision-relevant information – in real time

Number of immediate actions, number of corrective actions, number of preventive actions
Breakdown according to status "open", "in implementation", "for effectiveness review" and number of items for each status.
Detailing (2nd level) per status according to priority (urgent to not relevant)
Visualization of the remaining duration of measures with 45-day forecast showing the status as well as overdue items
Drill-down to individual measures with status information ("triggering object", "affected object", "measure type", responsibilities)

Clear display of all tasks (according to selection parameter) with task attributes or properties such as risk, evaluation, workflow status and completion date
Access to existing activities or workflow tasks
Direct access to specific measures with a view of multi-faceted core information such as sub-measures, additional information, triggering objects (deviations, complaints, OOS, security incidents, findings, changes, etc.), affected objects (processes, assets, IT applications, machines, organizational units, products, documents, etc.) or the graphical measure life cycle with PLAN/ACTUAL comparison
Compliance and security
Closed and stable CAPA system with fully traceable, systematized CAPA processes
Increased compliance level through seamless integration with other quality assurance processes
Complete traceability and control
Use of electronic signatures and audit trails for compliance with 21 CFR Part 11 and Annex 11
GxP-compliant implementation including standard validation templates and methodology
Simplified compliance with ISO 9001, 14001, 17205, 21 CFR Part 210, 211 and many others
Easy configuration (GAMP® category 4)
Reminders regarding initiated actions incl. escalation mechanisms
Automated e-mail dispatch well ahead of upcoming deadlines or due dates
Audit-proof storage of information and data
Flexible authorization concept to ensure highest security standards
Web-based interface for easy and worldwide access – also via mobile devices
Multisite and Multilanguage
Intelligent client concept for mapping international group structures
Realization of a central and group-wide CAPA management system, also across several third-party systems or several instances of systems (e.g. ERP)
Clear management of global and site-specific action catalogs or cross-site actions
Redundancy-free adaptation of globally specified information to local conditions
Language packages for international use; standard scope of delivery: DE and EN
Tools for translating the software interface into all Unicode-compatible languages
Easy switching between languages
Insight into our customer relations
"We are aiming for standardization and further automation of processes and also want to make intelligent use of the variety of data around individual production batches. To do this, we need close integration of the DHC VISION eQMS with our ERP and MES system."
What DHC Business Solutions offers here is convincing, even unique," emphasizes Christian Paunert. "We not only get the software, but also the templates for a consistent validation documentation, which of course has to be checked by us, extended if necessary and finally released. With regard to validation, we receive competent advice from DHC; the consultants are familiar with the regulated environment and all know what they are talking about." 
Christian Paunert
Verla-Pharm
Validation and compliance consistently in view
DHC VISION is specially designed for use in highly regulated industries. The solution fulfills GxP guidelines and directives of the FDA, EMA, PIC/S or ICH, as well as 21 CFR Part 11, for both technology and business processes. The Validation Package is available for system validation; it consists of "Validation Accelerators" (complete documentation set for validation) and Validation Services for adapting the documentation to a specific system configuration.
SOP CONTROL
The optimal solution for digital management and control of your specification documentation. Secure, controlled, traceable and compliant (including 21 CFR Part 11).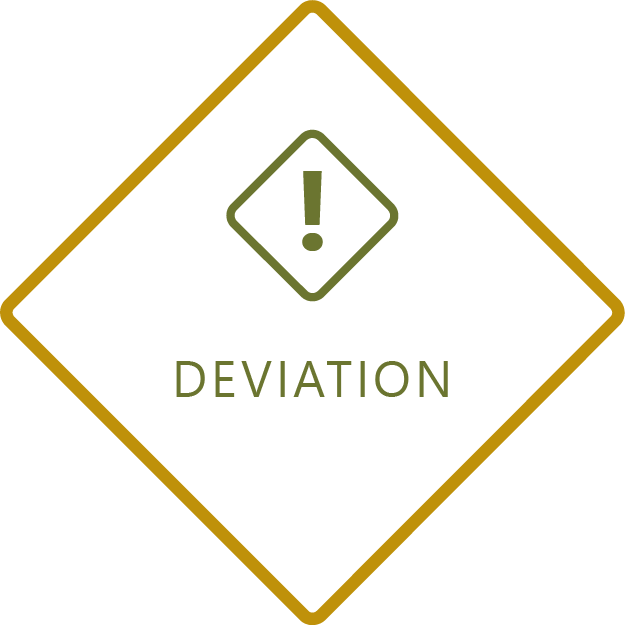 DEVIATION
Systematic and controlled documentation, analysis and resolution of non-conformancies to improve quality and compliance.
AUDIT
Indispensable for an integrated management system. An entirely digital and user-friendly audit process. The ideal addition to the other quality modules.
Get an impression of this and other products or read what insights we have gained from research and development. Take advantage of our exclusive content such as white papers or study results on the digitization of quality and compliance processes. Put together your desired media easily and conveniently.
Worth knowing | News | Latest
Saarbrücken, April 28, 2017: CROMA-PHARMA GmbH in Leobendorf near Vienna is an internationally active family business in the field of...
read more
What is CAPA?
So-called quality anomalies, non-conformities, deviations, complaints, findings or, simply put, "errors" trigger detailed error and cause analyses, on the basis of which measures are defined, initiated and subsequently evaluated for their effectiveness. A distinction is made here between immediate measures, corrective measures and preventive measures. Corrective measures must be initiated for deviations or errors that have already occurred. Preventive measures, on the other hand, are initiated to prevent deviations before they occur. The CAPA process starts with measures to be implemented immediately in order to limit potential damage.
The regulatory requirements for corrective action and preventive action are comprehensively described, for example, in ISO 13485, Medical Device Regulation (MDR) or in 21 CFR part 820.100 of the FDA.
Why are digital CAPA processes recommended?
One of the well-known deficiencies in GMP inspections is the often inadequate documentation in the CAPA process, because "what has not been documented does not exist". Thus, deviations are not comprehensively documented and investigated in more detail, root cause analysis is neglected and relevant CAPAs are not implemented. Similarly, no measures are taken to prevent recurring incidents, and no activities are planned to verify the effectiveness of measures. In short, the process is methodologically known and established, but allows too many degrees of freedom in analog processing and thus opens the door to errors. Numerous examples of how non- or inadequate digital CAPA processes can even lead to a warning letter from the FDA can be found under Warning Letters | FDA.
A digital CAPA solution takes into account all necessary activities and automates the entire lifecycle of the relevant processes – from the identification of the problem to the successful implementation of the problem solution. The CAPA process is thus always complete and transparent: no process or necessary activity is omitted, skipped, or forgotten; deadlines are strictly escalated in the resubmission, preventing any delay or procrastination.  Consistent down to the smallest detail, without question. But this is exactly where the strengths of digital CAPA processes based on the eQMS solution of the DHC VISION product family become apparent.
Which CAPA reports are relevant to management?
Management reports follow the top-down approach of the information pyramid. Here, the first thing of interest is an overall view of the current CAPA situation, always specific to the target group in the data aggregation. How many CAPAs are currently being processed? What is the discernible trend? Is there an increase or decrease in CAPAs and the associated number of findings, deviations, and complaints? What is the processing status of these CAPAs? Do the number of CAPAs still open predominate, or are the majority of CAPAs already being reviewed for effectiveness? Which CAPAs are overdue? Can clusters of CAPAs be identified at certain company locations? These are all highly relevant questions for quality management.